Welcome to the Dentons Data blog, brought to you by the Privacy and Cybersecurity group of the global law firm Dentons.
The Dentons Data blog provides insight and commentary on the legal aspects of the digital revolution affecting businesses. It discusses trends and developments in privacy, cybersecurity and data-related regulation in Canada and internationally and offers practical suggestions and insights on how these issues impact companies in a wide variety of industries.
Dentons' Privacy and Cybersecurity group group brings together a multi-disciplinary team of lawyers and innovators, who help companies reinvent themselves, their products and their business models in the face of rapid economic change. Learn more about our Privacy and Cybersecurity practice, or explore Dentons Data, our end-to-end suite of scalable, phased services to help you solve your data problems.
The Dentons Data blog is not intended to provide legal advice. Please contact Kirsten Thompson with any questions related to any issues related to data or transformative technologies.
---
Our Editor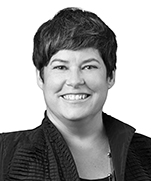 Kirsten Thompson
Partner, National Practice Lead
Toronto: +1 416 863 4362
Email
Kirsten Thompson is a partner and the national lead of Dentons' Privacy and Cybersecurity group. She has both an advisory and advocacy practice, and provides privacy, data security and data management advice to clients in a wide variety of industries.
Kirsten's practice has a particular concentration in data-driven industries and disruptive technologies, and she is a leading practitioner in areas such as Fintech (including blockchain and "smart contracts"), digital identity, Open Data/Open Banking, vehicle telematics and connected infrastructure, Big Data/data analytics applications and enterprise data strategy. She also helps clients prepare for and manage information crises, such as data breaches, investigations and class actions, and has advised financial institutions, insurers, health care providers and providers of critical infrastructure on cybersecurity preparedness and response planning. She has been lead Canadian counsel on some of the largest North American data breaches and has been selected as preferred cybersecurity counsel by a number of Canada's leading financial institutions and insurance providers.
In her advisory role, Kirsten assists clients in navigating the legal and privacy requirements of new products and technologies, and provides compliance advice both within and across jurisdiction. She counsels clients on issues raised by social media, surveillance, identification and authentication (including biometrics and electronic signatures), vehicle and device telematics (including unmanned vehicles, both aerial and land-based), online behavioural advertising, big data and data analytics, data monetization, and FinTech and open banking. She advises clients on the increasingly significant informational elements of business transactions.
---
Our Team
Global Presence
View all our locations globally.